Product / Background Introduction
The number covers more than 150 countries, allowing your customers to contact you anytime, anywhere, at no charge.
China 400 Toll Free Service / China-Hong Kong Free Call / Domestic Free Call / 400 Toll Free / Mainland 400 Phone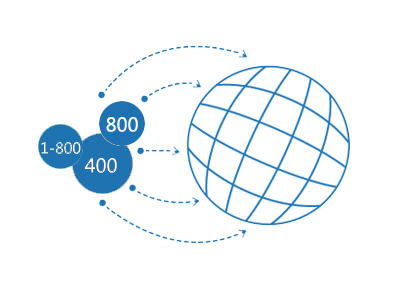 Business features and benefits:
---
Why choose an international toll-free number?
The toll free number (1800 number, 400 China number) is suitable for any customer service related activities. It can be used as a marketing tool to engage customers and make it easier for customers to connect with you wherever they are. Helps to improve the quality of customer relationships.
High quality infrastructure
A stable private network that strictly adheres to SLAs to ensure call quality by avoiding redundancy and communication interference.
Excellent safety
Data encryption to ensure the privacy and security of all communication records, private and secure storage of customer's historical communication data
data analysis
Monitor through real-time data, continually improve services, and generate comprehensive reports to help you better understand your customers' preferences.
24×7 support
Provide 24/7 support to our global customers to solve any challenges or problems they encounter.
Best value for money service price
The highest quality service on the market, coupled with the most competitive prices.
Cross-industry knowledge
With more than 500 customers from different industries in the world, we provide the best service solutions according to different business special needs and needs.
Product / Background Introduction
---
example:
ur client is a large multinational company that provides services to all Asia Pacific subsidiaries in Malaysia. We set up toll-free numbers for them on a country-by-country basis so that their customers can contact them without charge. At the same time, additional services such as blacklists and multiple concurrent incoming calls are added as needed.
Online shopping platform: After the addition of China's 400 free telephone line, domestic customers can directly call for information on goods and orders, improve customer service levels, increase customer loyalty and pave the way for future orders.
Watch and Jewelry Sales Company, set up a VIP line in China with 400 free calls, let domestic VIPs directly call branches or customer service centers to inquire or book goods, and even make appointments for VIP manager entertainment or other inquiry services, not only improve corporate image and service level, but also satisfy customers. Satisfied, sales have naturally increased.