3CX's integrated video conferencing solution, enables businesses to save time and money by hosting virtual meetings, whilst enjoying the benefits of face-to-face communication.
Advanced Features for Ultimate Collaboration
Being integrated with 3CX in addition to its rich feature-set and user-friendliness, 3CX WebMeeting improves employees' productivity and collaboration while its WebRTC integration and web-based functionality ensures incredible ease of use. Participants can join without the need to login anywhere and easy setup of ad hoc meetings makes launching conferences a breeze for both participants and organizers.
Plugin & download free video conferencing
Remote control and assistance for quick & easy troubleshooting
Pre-upload PowerPoint & PDFs for crisp, responsive delivery
Easy to use polling tool for feedback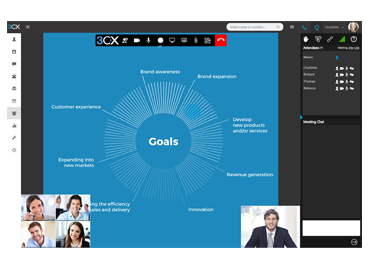 Video Conferencing
Integrated, Free Video Conferencing
3CX's integrated video conferencing solution, enables businesses to save time and money by hosting virtual meetings, whilst enjoying the benefits of face-to-face communication.
Video conferences can easily be launched through the 3CX client with a few mouse-clicks. Video conferencing can be used for a wide variety of everyday communication needs to boost productivity and efficiency.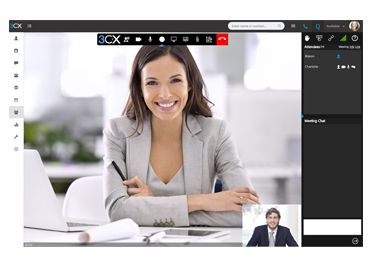 Hassle Free Video Conferencing with WebRTC
3CX harnesses Google's revolutionary WebRTC technology, which enables video and voice communications to take place through the internet browser, meaning that participants will be able to seamlessly join meetings without the need to download any additional software or plug-ins.
Clientless
One-Click Conference
Interoperability with VoIP and video
Bandwidth Management and Control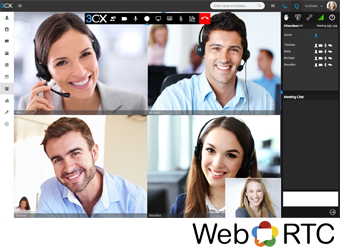 Video Conferencing for All
With 3CX, companies of all sizes can now take advantage of video conferencing as an advanced collaboration and online meeting tool. Avoid paying a monthly subscription fee for each user and implement open standard peripheral hardware for an inexpensive solution. Unlimited users means inefficient and unprofessional account sharing is eliminated.
Pricing based on number of participants, no per user licensing
Unlimited users no matter which package you choose
No per month costs, just one low, yearly payment
Integrated with 3CX – free for up to 10 participants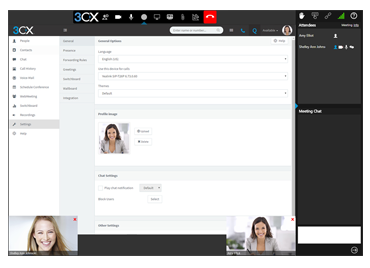 Android / iOS Mobile clients
Unparalleled Mobility with 3CX's Leading Android and iOS VoIP Clients
3CX includes VoIP clients for Android and iOS which allow you to take your office extension with you anywhere.
Answer calls via the office phone extension and transfer to colleagues without asking customers to call another number. Slash your company's mobile phone costs, increase productivity and make sure you never miss a call again!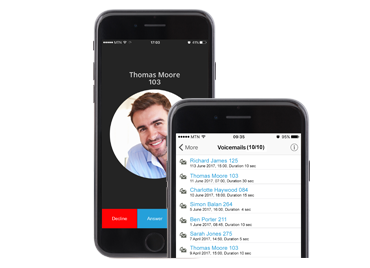 Acclaimed Android and iOS VoIP Clients
3CX features native Android and iOS VoIP clients that are continuously updated and tested and set the standard for mobile phone VoIP clients. With an inbuilt tunnel to avoid remote firewall issues, calling from over 3G or from any Wifi hotspot is extremely reliable. 3CX Android and iOS clients fully support PUSH, allowing the phone to be on standby and save battery life.
Most advanced and reliable Android & iOS VoIP clients on the market
No additional licensing costs for softphones
"PUSH" notifications save mobile battery life
Inbuilt SIP tunnel/proxy resolves any remote firewall issues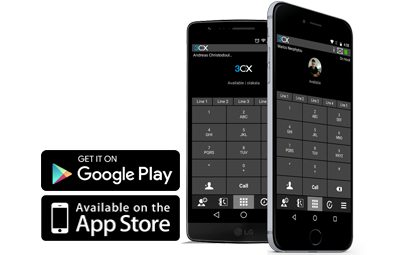 Easy to Configure and Manage
The 3CX clients for Android and iOS utilize VoIP and are easy to setup and manage. The clients can be automatically provisioned from the 3CX Management Console, reducing help desk calls. Because of the inbuilt tunnel, the 3CX clients work seamlessly across all firewalls, making them even more reliable.
ReEasily setup conference calls
Fully integrated, thus easy to use
SIP Forking – use all clients simultaneously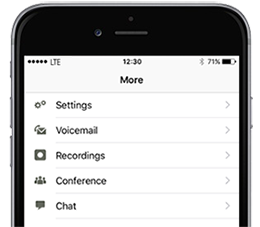 Use Your Extension From Anywhere
With the 3CX VoIP clients for Android and iOS you can take your extension wherever you go. 3CX delivers the one number concept meaning that you no longer have to give out your mobile number. Set your status so your colleagues can see whether or not you are available to take a call.
Make and receive calls from your smartphone – at no cost
Set your status to available, away and out of office from your smartphone
One number concept
See the presence of your colleagues from anywhere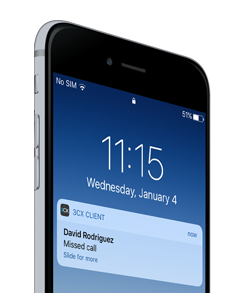 Win & Mac Softphones
Powerful, Easy to Use Softphones for Windows and Mac Included
With integrated powerful clients for Mac and Windows, 3CX allows you to easily manage your phone calls, whether in the office using CTI and your deskphone, or on the road using your laptop.
Unlike other PBXs, no additional licence fees are charged – and because the clients are fully integrated they are easy to deploy and manage for the administrator, as well as easy to use for the employees.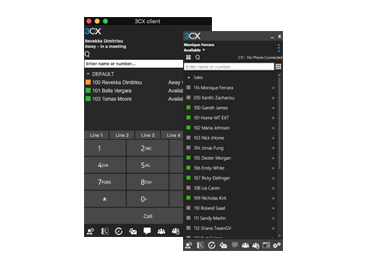 Use Softphone to Make and Receive Calls
With 3CX's softphones for Mac and Windows, you can manage your calls from your desktop and make and receive calls via the office phone system from your computer, even while out of the office. Using a headset you can even use a 3CX client as a full desk phone replacement.
Launch calls on your IP Phone from your desktop with CTI mode
No additional softphone licensing fees
Easy to use and manage
Work seamlessly as if you were in the office and save on call costs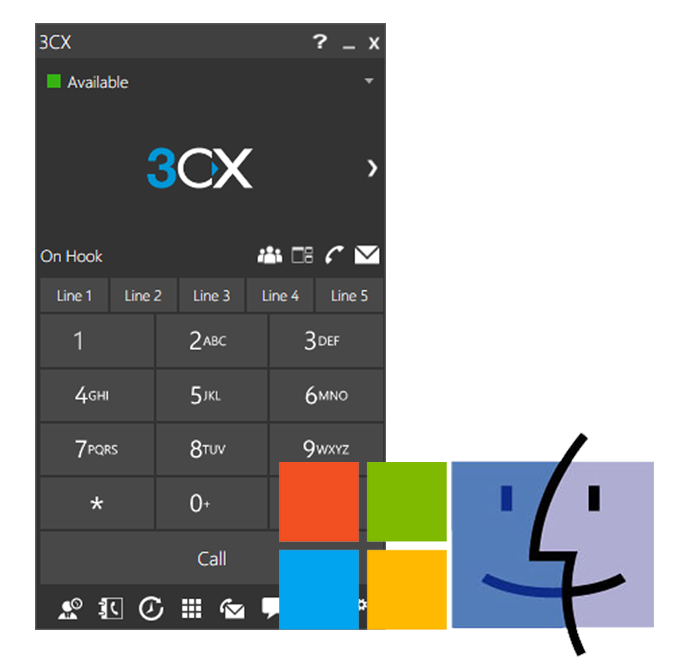 Manage your Calls with the 3CX Switchboard
3CX includes a powerful switchboard function that can be tailored to the way you want to view and manage your phone calls. With 5 different views to choose from it can cater to any job role.
Drag and drop calls for quick transfer
Ideal for Call Centers – includes Wallboard and Q-Manager view
View the presence of colleagues easily
Receptionist view allows easy management of incoming calls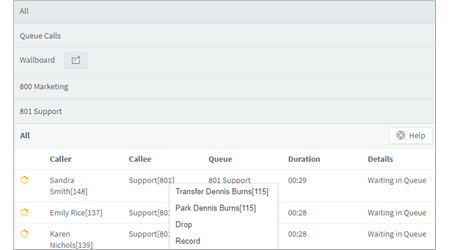 Integrates with Office 365, Google, Outlook & Others!
Launch calls directly from your CRM package. Inbound calls are matched to customers based on the caller ID and logged in your CRM system. Accurate call journalling of inbound and outbound calls with call duration allows you to generate insightful reports on customer and agent activities.
Use Office 365, Google contacts or Internal Phonebook
Launch calls from your CRM
Converts cryptical Caller ID to a customer name
Detailed reports on customer / agent activities, no manual call logging